In Psalm 105:5, we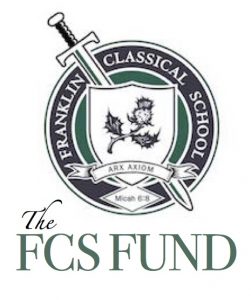 are reminded, "Remember the wondrous works that he has done, his miracles, and the judgments he uttered."  Over the past 24 years, the Lord has blessed Franklin Classical School in innumerable ways, enabling us to continue a work that has, and will continue to have, a real and lasting impact.  We are deeply grateful for the support and investment of our students, parents, grandparents, faculty, staff, alumni, and community members who have allowed us to continue this work for over two decades.
As we press forward in our mission and vision, the truth of this day and age is that those things which enable us to serve our families and communities more and more, cost money. FCS operates solely on tuition payments and gifts to the school.  These two sources fund our ability to provide our community with this vision of Classical Christian education.
 We invite you to partner with us in a vision that transforms hearts and minds as well as societies and cultures; that is both community-oriented and globally-minded; that has an impact both in the present as well as in generations to come.
The FCS Fund is our $150,000 annual appeal to generate operating expenses including student scholarships, teacher benefits, and more. Please consider a donation. Gifts can be given as unrestricted funds or designated toward one of five areas of interest.
 To make a tax deductible donation to this vision visit our Pay Pal now or contact our Development Director at at mhill@franklinclassical.com or by phone at (615) 528-3777 ext. 1080.