---
FCS Student Places in Regional Scripps Spelling Bee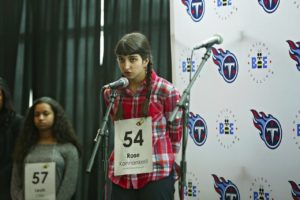 The Scripps 2017 Regional Spelling Bee was held March 11 at Nissan Stadium. Since FCS began participating in 2014, the school champion has placed in the top 10 every year.
This year the region expanded, and school champions had to take an online spelling/vocabulary test to qualify for the regional bee (only the top 70 scores make it). FCS school champion Rosy Kannankeril (seventh grade) qualified, and at the regional bee correctly spelled embargo, langosta, piccolo, mediocre, nachtmusik, notochord, basmati, exacerbate and galjeon correctly. With 11 spellers left administrators went "off the list," and Rosy made it into the champship round, where she ended up finishing 6th place. Congratulations to Rosy for her outstanding accomplishment!
Check out Calendar for further upcoming events.
[/vc_column_text][/vc_column][/vc_row]
---